Fully Licensed, Air Conditioned, Waterfront Dining
Welcome to the Compass Rose Dining Room!   Our air conditioned dining room is fully licensed and we offer home cooked meals, specializing in seafood, including homemade bread, soups, salads and delicious desserts.  We offer dinner to the public on a daily basis during the summer months and offer breakfast to our in-house guests only.   Enjoy the ocean views, as many of our tables are situated around the windows, or the option of dining on our waterfront deck (weather dependent).   We look forward to welcoming you this summer!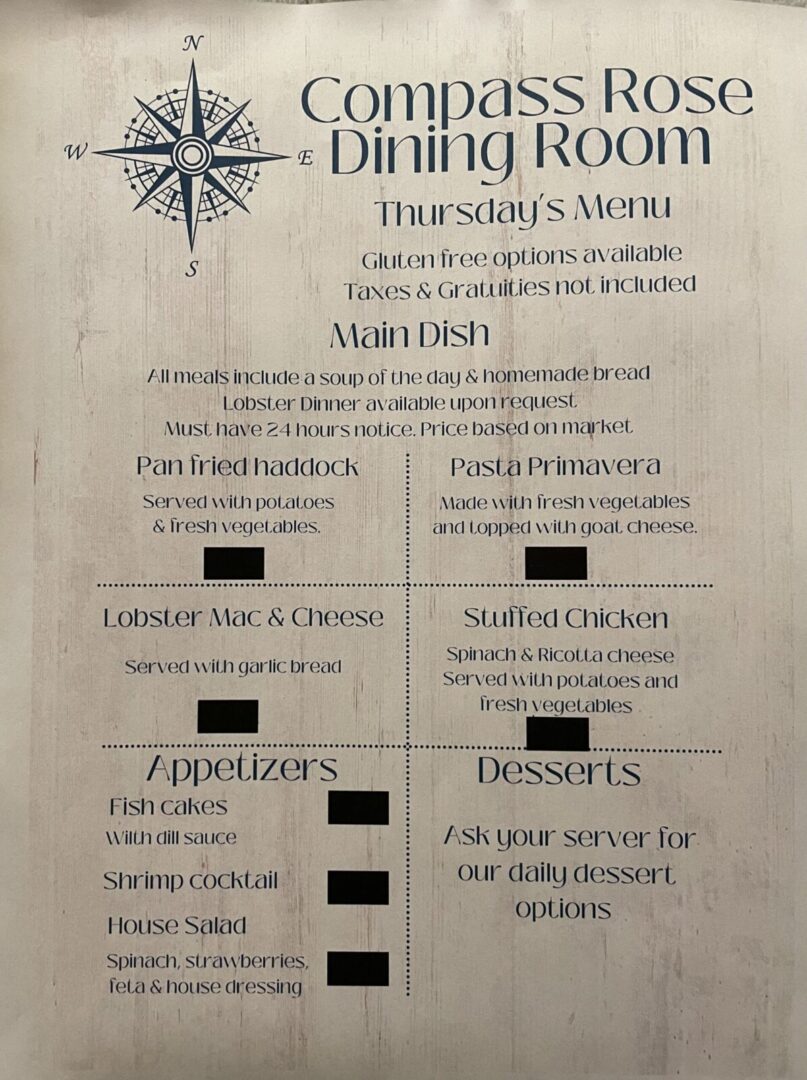 Lovely meal, service fantastic.  Recommend to all friends.   August 26, 2022
Party of four for supper.  Wonderful food, great service.  Thank you for a wonderful evening.  September 3, 2022 
We enjoyed a lovely dinner – delicious meal & wonderful view over the harbour – a beautiful evening.  Compliments to the chef.  September 4, 2019
FAQ
When is the dining room open?
The dining room is open to the public from 5-8 pm daily (mid-June – September)
Are reservations required?
  We recommend reservations, but not necessarily required.  Our seating is limited, so to avoid disappointment, we suggest that you make reservations (506) 662-3563.
Can you accommodate dietary restrictions?
We can accommodate for most dietary issues, if we know ahead of time.  We offer gluten free options and can adjust for dairy free, however please let us know at time of booking, so we are aware.  For serious food allergy reactions, please call ahead and we can let you know if we are able to accommodate your needs.  Please be aware that shell fish is cooked on a daily basis in our kitchen.